THURSDAY MARCH 16, 2023 - SUNDAY MARCH 19, 2023
PORTOLA HOTEL AND SPA, MONTEREY, CA
Become a member and get discounted prices.
For instance, an Active membership for $135 reduces the Early Bird: 2 Day Non-Member Physician price from $520 to $350.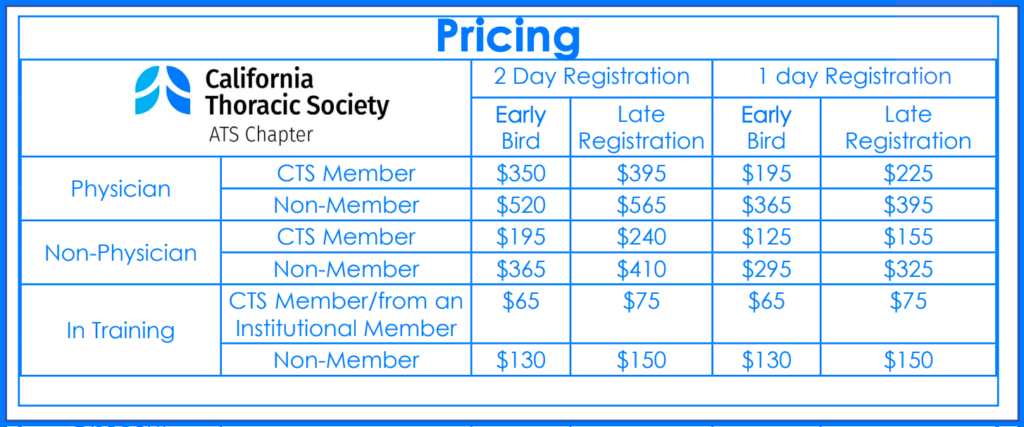 We would love to have your support going forward as a CTS member. Your membership helps CTS achieve its critically important mission to improve California lung health and, through advocacy and education, advance the science and practice of pulmonary and critical care medicine.  Membership Options
For CTS membership pricing: One must Login to view discounted ticket prices; otherwise non member prices will be displayed.
Unsure of your CTS membership status, contact us at office@calthoracic.org
Non-Member pricing
Early Bird prices end February 16th 2023
Address:
Two Portola Plaza
,
Monterey
,
93940
,
United States
Description:

The CTS has secured a limited number of rooms at the Portola Hotel. For check-in on Thursday, March 16, 2023 and check-out on Sunday, March 19, 2023, the room rate is $235 per night plus taxes. Room rate expires Friday, March 3, 2022.
Pre and post nights at the group rate have been added. This will enable your guests to conveniently reserve rooms outside of the contracted dates and extend their stay.
Click for Reservations
Guests are also welcome to call the hotel reservations at (866) 711-1734; you just need to mention you are with the California Thoracic Society to get the group rate.